PSA Group and Fiat Chrysler Automobile sign a 50-50 merger agreement that will create fourth largest carmaker by volume, based on combined production of 8.7m units pa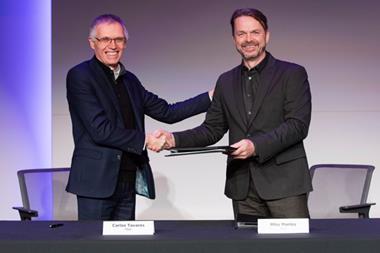 Completion of the proposed merger is expected to take place in 12-15 months and will also mean the creation of the third largest carmaker in the world by revenue, with a combined taking of €170 billion ($185.6 billion).
The combined entity is expected to deliver €3.7 billion in annual synergies and, according to a joint statement from the two carmakers, these will not be at the cost of any plant closures. However, it is likely to lead to increased pressure on suppliers and logistics providers as platforms are reduced, and networks and services optimised.
Under the new arrangement John Elkann will carry his chairman role at FCA over to the new company, while Carlos Taveras, currently CEO and chairman of Groupe PSA, will be appointed group CEO. The name of the new group has yet to be announced.
source:automotivelogistics